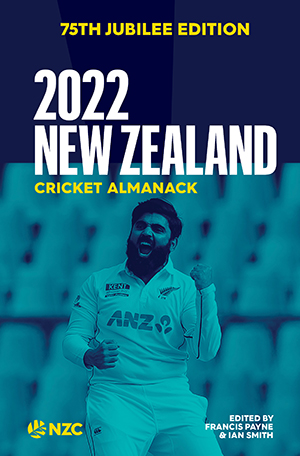 2022 New Zealand Cricket Almanack
Edited by Francis Payne and Ian Smith

A Mower Book Published by Upstart Press Ltd.
Level 6, BDO Tower, 19-21, Como Street,
Takapuna, Auckland, New Zealand.

ISBN 978-1-990003-49-3
Pages 551
RRP New Zealand $ 55.00


2022 New Zealand Cricket Almanack, the 75th Jubilee edition, edited by Francis Payne & Ian Smith, is both pleasingly designed and reasonably priced - a priceless work of reference.

This magnificent Almanack, 40th under the current editors, has earned many friends over the years and will assuredly continue to do so. Every cricket lover will relish the arrival of this latest edition.

Despite ongoing restrictions caused by the pandemic, New Zealand Cricket again delivered a big season of international and domestic cricket and New Zealand hosted the ICC Women's Cricket World Cup.

Daryl Mitchell and Tim Southee have been chosen as Players of the Year and Troy Johnson, Simon Keene and Ben Sears as Promising Players of the Year by the Almanack.

An absorbing compilation of the season's happenings, as in the previous years, is the highlight of this Almanack. The statistical highlights, covered in this section, are not to be seen in any other cricket publication and website. Some of the interesting Happenings covered in this Almanack are:

The second Test between England and New Zealand at Trent Bridge, Nottingham, played in 2022, became the first Test match to include 1000 or more runs in boundaries. The two sides hit 225 fours and 24 sixes, a total of 1044 runs in boundaries. New Zealand hit 116 fours and six sixes (500 runs) while the England players struck 109 fours and 18 sixes (544 runs).
Devon Conway was 99 not out at the end of the first day of the Christchurch Test against Bangladesh and went on to complete his century the following morning. The only other New Zealand player to remain 99 not out at stumps in a Test match is Glenn Turner. He was one short of his maiden Test hundred at the end of the opening day against Pakistan in the 1969-70 Dacca Test and was also 99 not out at the end of the second day against Australia in the 1973-74 Christchurch Test.
Ajaz Patel became just the third bowler in test annals to bag all ten wickets in an innings when he returned figures of 47.5-12-119-10 against India at Mumbai in December. Jim Laker (10/53 for England against Australia at Manchester in 1956) and Anil Kumble (10/74 for India against Pakistan at Delhi in 1988-89) are the others. He was the only one of the trio who still had to bat, on the same day, as it turned out, having just 27.5 overs to reflect on his bowling effort before returning to the field of play. He became the first ever bowler to capture all ten wickets in an overseas Test.
In the Kanpur Test between India and New Zealand in, substitute KS Bharat kept wicket in place of Wriddhiman Saha who was unable to keep due to injury. Bharat caught Will Young and Ross Taylor and stumped Tom Latham. It was just the third instance of a substitute (i.e. someone not in the playing eleven) making a stumping in a Test match. Neville Tufnell (England vs South Africa at Durban in 1909/10) and Bevon Congdon (New Zealand vs Pakistan at Lahore in 1964-65) provide the only other instances.
Tom Bruce became the first New Zealand player to amass 500 runs in first-class cricket without being dismissed. He ended the season with unbeaten innings of 90 vs Canterbury, 208 vs Northern Districts and 204 vs Auckland - all for Central Districts in March/April 2022. The overall record in first-class cricket is 709 by KC Ibrahim in India in 1947-48 when he had unbeaten scores of 218, 36, 234, 77 and was finally dismissed for 144.
A detailed statistical section, covering Tests, ODIs, T20Is and First-class cricket apart from New Zealand limited-overs records, Women's Cricket are always exhaustive. Many happy hours can be spent absorbing the endless data. As one would expect from Fancis Payne and Ian Smith, there is a wealth of information covering both team and individual achievements that makes the work an essential purchase for anyone interested in New Zealand cricket or statistics in general. Highly recommended Almanack.